Post by Zan on Mar 4, 2014 2:16:49 GMT
Little is known about the interim between the Mega Man and Mega Man X series. An official outline of events does exist, but the developers prefer to leave matters to our own imaginations [1]. With this topic, I hope to piece together the fragmented bits of information we have on this elusive time period, supplying reference whenever needed.
Time Travel
Our first glimpse of the future comes courtesy of Quint. That enigmatic robot is actually Mega Man himself [2]!
Mega Man and Mega Man?
For those unfamiliar with the story of "World 2", Wily once stole an experimental time machine from a time-space research lab and used it to spy on Mega Man's future *1.
He arrived in a peaceful world, free of conflict, in which an older Wily had reformed and Rock had reverted back into a household robot [3]. By conspiring with his future self, Wily kidnapped Rock and turned him into Quint before returning to the present.
So what does this mean for Mega Man's future? Will Rock inevitably become Quint? What happened afterward?
"Challenger from the Future" gives us a little more insight [4]. In that game, we're introduced to yet another time travelling foe. While many confuse him for Quint, "Mega Man Shadow" is actually another robot made in Mega Man's image.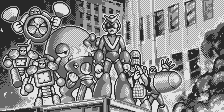 Mega Man Shadow and the Dimensions.
When he arrived in the past and attacked Symphony City, Shadow told the following: the future Wily has not given up on his ambition of world conquest.
A lie, however. In his dying breath Shadow admits that Wily truthfully did not continue his evil ways. Though, he does reveal a bleak future in which Shadow himself became mad with power, desired to destroy the world, and faced ever stronger foes until no-one remained to stop him.
In the end, Bass and Rock both learn valuable lessons from Shadow's tale. They vow not to go down this same path. Their determination gives us hope that perhaps, and only perhaps, Rock will not become Quint and a new future may be written.
Mega Man
The fate of our hero is officially unknown. Though it seems destined for Rock to become Quint and meet a poetic demise in battle against himself, this future represents only a possibility. As changes from the past ripple onward into the future, so too might the present stray from this set path *2.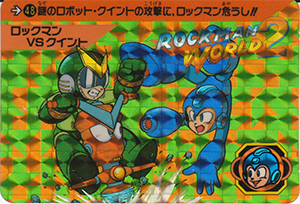 Mega Man and Quint in a heated battle for the future.
Using our imagination, limitless scenarios can serve to explain Mega Man's absence from the X-series. One in particular, however, has acquired much infamy.
As many fans have asked: did Zero kill Mega Man? And if he did, who else?
Keiji Inafune's personal stance is that Zero did NOT in fact kill anyone. It's not in his profile [5]. Furthermore, the man has expressed a great distaste for excessive violence in the classic series [6]. Also let us not underestimate Mega Man in a theoretical battle against Zero. Though certainly one of the strongest robots ever, Zero can still suffer defeat against an enemy with strength of heart and many allies. Remember, just as Wily created Zero, Light created X. Though Mega Man and X are separate entities [7], X himself is also a more advanced version of Mega Man (equipped with the Mega Buster Mk. 17). Dr. Light may very well put X's weapon and armour technology to good use if Rock requires such an upgrade.
Magnum Opus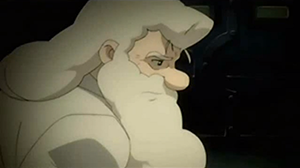 Light and Wily – eternal rivals – conversing their dying wishes to their last creations.
Dr. Light is remembered in history as "the father of robotics" [8], Dr. Wily as "the legendary mad scientist" [9].
Despite their differences, Wily and Light lived the last days of their lives in clear parallel. They both completed their magnum opus in secret before passing on. Dr. Light left a program with his personality to play back messages for X (which, for all intents and purposes, is the good doctor in person), whereas Dr. Wily was brought back by the virus [10] (perchance as Serges and/or Isoc, but most certainly as the 'Old Man' from X5). A hundred years into the future, the two continue to deliver aid in their own unique ways.
X and Zero, parallels in every way.
Humans and robots
The groundwork laid by Dr. Light led to further technological developments over the course of a century. Though certain robot designs have withstood the test of time with minor changes (Mettaurs [11] and Battons [12]) others were quickly replaced, like how state-of-the-art phones become obsolete in less than a decade [13].
Still, a century later, little progress has been made in the field of humanoid robots until Cain's creation of the Reploids. In "Maverick Hunter X", Dr. Light gives us a plausible explanation why: not only does he have no one to carry on his work, humanity is not yet ready to accept a robot as humanlike as X. They fear the dangers he represents.
This should come as no surprise: not only did the world suffer great fear through Dr. Wily's repeated attempts of world domination [14], invincible combats robots have also been used as weapons of war [15].
X doing battle with the invincible combat robots of bygone days.
While Light never doubted X's reliability for a minute, it took thirty years of ethical testing to persuade others of that fact.
Mega Man X
As early as The Power Battle, Dr. Light mentioned how robots don't just need to increase their physical strength; they need to improve their cognitive programs. He spoke about giving robots the ability "to worry". Like humans, they need to determine what is right and wrong by themselves [16] *4.
What robots truly need!
The first robot granted this experimental ability is Mega Man X, whose very name (the variable "X") represents "Limitless Potential."
One little known fact is that the original Japanese manual contains an extended version of X1's "Warning" message: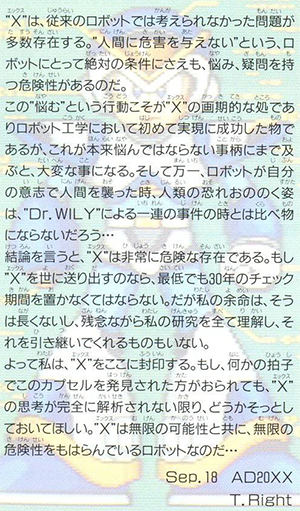 WARNING
In it, Dr. Light ascribes X's humanlike A.I. to "the act of worrying". If extended to matters that by nature must not be questioned (e.g. if robot were to harm a human deliberately) the result would be disastrous. Humankind would tremble with fear, the like of which was unknown even in the days of the Dr. Wily incidents [14].
Though X "worries" most of all (as said in "Maverick Hunter X" *5), the Reploids have in fact inherited his ability. Based on X's data and equipped with a "suffering circuit", as to be biased toward neither side, they are fated to continuously worry about which side in society they should stand upon [17]. Older robots, despite having a conscience, personality and emotions [18], do not possess the same ability to disobey their human masters [19].
While Dr. Light always kept a positive outlook on the future – seeing X as the world's hope and dreaming of human-robot coexistence – he was also a cautious man. Not only did he seal X away for 30 years ethical testing and limited X's strength whenever possible, he also anticipated X would do battle against robots infected by computer viruses. To that end, he equipped X with the perfect virus countermeasure [20]. The good doctor may have dabbled in very dangerous research, he understood the risks well and took every precaution to prevent the worst possible outcome.
Zero
As a robot possessing impressive A.I. and an infinite Bassnium power source [19], Bass has gone against his own creator several times. His accidental creation and subsequent defiance led to Dr. Wily developing an energy stronger than Bassnium (the Maverick Virus, presumably) and a robot more powerful than Bass or Mega Man.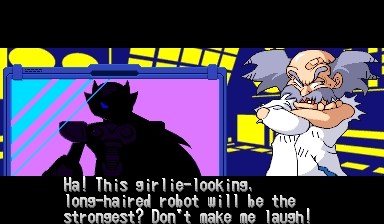 ZERO
Chronologically, Zero first appeared in The Power Fighters when Wily showed his design to Bass (X2 form, X3 buster, no Z-saber). However, it would be some time before Wily completed this project. It would also appear that Wily ran into some difficulties. *4
Zero (X1 design) contained a flaw in his cognitive program that made him violent and unwilling to obey instructions (like Bass). For this very reason, Dr. Wily himself sealed Zero in a capsule [21] *6.
In 21XX, an unknown computer virus (a subspecies of Roboenza) emerged from the capsule Zero slumbered in and began driving robots mad locally [22] *7. Later Zero awoke from his capsule and wiped out Garma's unit of Maverick Hunters before doing battle with Sigma. During this confrontation, the virus infected both of them at the same time (bypassing Zero's imperfect virus countermeasure / antibodies through a breach in his armour). This event led to Zero's personality changing completely. Reborn as a good Reploid, he joined the Maverick Hunters [17] [23] *8.
Since the above may seem contradictory. It's important to note that the Maverick Virus serves a double purpose. First, when negated by his anti-virus systems, it empowers Zero to near invincibility. Second, through direct application (X2) or overexposure (X5), the virus awakens Zero's true self. Thereby the Maverick Hunter is not the end product of virus infection, but rather an intermediate state born from attempted correction of the Irregular Zero. Awakened Zero (not Irregular Zero) is the strongest robot Wily envisioned, subservient to his cause.
Awakened Zero, powerful, calm, collected, and under Wily's control.
Additional Notes

*1 The US manual for "World2" gives us the name Chronos Institute for the time-space research lab and "Time Skimmer" for their time machine. Wily travelled approximately 37.426 years into the future. By this figure, the future Wily would be around 90 years of age.
*2 Mega World / Wily Wars proves that time travel to the past can change the future. A temporal loop may still occur, however.
*3 Mega Man 9 introduces a law limiting the lifespan of robots. This may further explain the future absence of older model robots (humanoid or otherwise). However, we do not know if this law persisted after the incident. Furthermore, robots like Rock and Roll are clear exceptions to the law.
*4 The Power Battle occurs after Mega Man 7, before Mega Man 8. The Power Fighters occurs half a year after Mega Man 8.This puts the full production of X and Zero quite late into the timeline.
*5 The script differs between the original X1 and Maverick Hunter X, however the two versions are not incompatible. For the purpose of this text, they're treated as complementary.
*6 Zero's capsule was stored inside a warehouse/store in the Rocky Mountains. This is the same approximate region in which X was also found, later dubbed the "Forbidden Area".
*7 The English version of Mega Man Zero Official Complete Works disagrees with the Japanese original on this subject [17]. The Sigma Virus does not actually originate from X's suffering circuit (that we know of). The circuit is however mentioned as the "true form" or "true essence" of the Sigma Virus (in function, not in origin). On the old (but now defunct) Mega Man Network forums, the person tasked with the English adaptation of the book had expressed difficulty interpreting the paragraph in question.
*8 This information echoes the early concept scenario from Mega Man Zero Official Complete Works [17], though the detail of Zero being the "first" Reploid infected seems to have changed. The Idiom Dictionary of the same book, however, does mention that Zero was discovered as the source of the virus outbreak (the only one infected with the virus initially). Furthermore, Rockman Perfect Memories reckons that Zero was born with the virus already inside of him [24], whereas Keiji Inafune claims Zero passed the virus to Sigma [25]. Given his natural immunity and close proximity, it's quite probable that Zero became a carrier of the virus long before it affected his mind.

References
[1]
kobun20.interordi.com/2013/02/02/the-times-they-are-a-changin/
Q03: Has what happened in the interim between the Rockman series and the Rockman X series been decided? Or is there no canon version of what happened?
CAPCOM: Of course there is such an outline, but don't expect an official announcement of it. Players have always enjoyed using their imaginations to come up with their own conclusions, and we wouldn't want to take that away from them…
[2]
kobun20.interordi.com/2011/03/14/its-quintn-time/
[3]
kobun20.interordi.com/2010/09/20/ask-me-3-the-final-lesson/
Q. I read that Quint is supposed to be the future Rockman who was remodeled, but does that mean that in the future Rockman loses to Dr. Wily?
A. Ah… That's quite an inexorable situation. As we came to understand later on, in the future that "Quint" came from even Wily himself had reformed, resulting in a peaceful world that was free of conflict. As would naturally occur in such a setting, the "battle functions" had been already been removed from "Quint". And that's when our Wily showed up with that time machine and attacked, or so we understand.
[4]
megaman.wikia.com/wiki/Rockman_%26_Forte:_Mirai_Kara_no_Chousensha_Script
[5]
www.capcom-unity.com/s-kill/blog/2008/09/05/inafunesan_answers_your_questions
1) Did Zero really "kill" the family between the events of the Classic Mega Man and X series?
KI: No, Zero did not kill them. According to the way I created him, Zero is not such a person--it is not in his profile.
[6]
Mega Man Complete Works
The ultimate unspoken rule about making a game that is geared toward children is that you simply cannot kill anyone.
[7]
kobun20.interordi.com/2010/07/05/rockman-x-origins-2/
"Our protagonist this time is X, who is of course an entirely different person from Rockman."
[8]
kobun20.interordi.com/2010/07/05/rockman-x-origins-2/
In this game, Dr. Right has already become a historic figure, known as the "Father of Robotics".
[9]
Sagesse (Serges)
Leader of the 3 main Counter Hunters. Like the legendary mad scientist, he is a super genius!
[10]
www.capcom-unity.com/s-kill/blog/2008/09/05/inafunesan_answers_your_questions
KI: A large amount of time has passed between the classic series and Mega Man X. Dr. Wily had died in the interim but was brought back by the virus.
[11]
Mettool C-15
Repliroid who watches the factory. From the former series that
worked at the factory, but this time they were actually advanced
enough so as to be placed as chiefs of the factory.
[12]
Batton M-501
Bat type mechaniroid which Batton Bone is based on.
It is a very unusual mechaniroid, made over 30 years ago.
[13]
kobun20.interordi.com/2013/02/02/the-times-they-are-a-changin/
Q02: Why aren't the robots from the original Rockman time period still around in the Rockman X time period? Especially since there are some robots with only minor changes.
CAPCOM: When you consider that state of the art mobile phones become obsolete in less than a decade, you can imagine how after 100 years you wouldn't expect to see too many old models still remaining. There are indeed a few Metalls and Battons and such still around albeit with minor changes, so perhaps that's because their designs are so enduring?
[14]
rockmanpm.com/?p=x/rockmanx1/manuals
"X" presents many problems inconceivable in existing robots. There is a danger he may worry over or question even the absolute requirement for robots, "Do not harm a human."
The act of worrying in "X" marks a new epoch in robotics and is the first time this experiment has succeeded, but if it extends to matters that by their nature must not be questioned, it would be disastrous. In the worst case, if a robot were to harm humans deliberately, humankind would tremble with fear the like of which was unknown even in the days of the "Dr. Wily" incidents…
I conclude that "X" is an extremely dangerous being. If I am to send "X" out into the world, he must have a verification period of 30 years at the least. However, I do not have that long to live, and regrettably there is no one who understands all my research to carry it on for me.
Therefore I seal "X" here. If by some chance there is someone who discovers this capsule, as long as "X's" thinking has not been fully analyzed, please leave him untouched. "X" is a robot laden with both unlimited possibility and unlimited danger…
Sep. 18 AD20XX
T. Right
[15]
Old Robot
Combat robot used in wars of the past. Heavily armored, attacks were once
useless on this invincible robot, but with the end of the wars, it was turned
to scrap. Where the armor is missing in the center is its weak point.
[16]
Dr. Right: それはにんげんと同じように考え、なやむことじゃ。 ロボットのパワーを強くするだけでは、おろかなたたかいなくならない。 しこうかいろのプログラムをもっとパワーアップさせなくてはならないな。
Dr. Right: It is that robots have thinking and troubles similar to humans. If only robots' power is strengthened, foolish fights will never end. We must further power up the cognitive program.
Dr. Light: Like humans, the robot has to determine what is right and what is wrong by itself. Robots are not supposed to hurt humans. We need to research more on A.I. program.
[17]
Mega Man Zero Official Complete Works
Sigma Virus
The terrifying virus that causes a Reploid to go Maverick. The virus actually originated from one of the circuits that Dr. Light installed in X's brain. The circuits function was to keep X neutral and unbiased in matters concerning humans and Reploids. Tragically, the very same circuit condemned X to a life plagued by the philosophical question that weighed the value of humans against that of Reploids - a question to which there was no answer. Zero was the first Reploid to be infected by the virus, but as an android created solely for evil, destructive purposes by Dr. Wily, the virus affected him uniquely. Instead of going Maverick, the virus turned Zero into a warrior driven by goodness, not evil. Unfortunately, by tirelessly fulfilling his destiny as a Maverick Hunter, Zero inadvertently spread the virus throughout the world. Eventually, as the host of the virus, Zero was taken to a research facility for study.
Rockman Zero Official Complete Works
Sigma Virus
The dreadful Sigma Virus that transforms repliroid to irregular.
The true form of which, was a suffering circuit Right inserted into X during the time of his creation.
A repliroid which possesses a suffering circuit,
in regards to a society where humans and repliroids coexist,
so as to be biased towards neither side,
it is fated always to worry continuously as to which side it should stand upon.
Zero was the first repliroid to be infected with the Sigma Virus but
Zero which was developed by Wily to be a completely evil repliroid,
despite being infected by Sigma Virus isn't transformed into an irregular, [instead]
was reborn as a good repliroid.
But,
as Zero bustled about for the sake of fulfilling his missions as an Irregular Hunter
the Sigma virus lying dormant within his own body was scattered throughout the world
inviting an ironic result.
And so Zero, having become carrier of the Sigma Virus, was admitted to the research facility.
[18]
kobun20.interordi.com/2010/09/20/ask-me-3-the-final-lesson/
Q. Do robots like those made by Dr. Wily or Dr. Cossack have self-awareness, and can they talk? And do they run on solar energy like Rockman does?
A. I take it you'd like to know if Wily and Cossack's robots possess "sentience"? Naturally, they each have a "consciousness", although the level of every "cognitive circuit" embedded inside each one of them varies, producing as many different "personality" types as found in people… Just like you or I, they can speak, and have emotional responses like shyness, or anger, just as we do.
Regarding their energy systems, many of them do utilize "solar energy" in some way
[19]
www.themmnetwork.com/blog/2011/04/22/rockman-online-gets-a-little-bass-in-its-voice
Forte possess impressive AI, and for that reason he, unlike other robots, appears to be able to disobey his own master's orders. This has points of similarity to the AI of present day Repliroids.
Should nothing else come up that's contradictory to this information, this robot, with consideration to the special characteristics of his infinite Fortenium power source, has a high likelihood of being closely similar to the prototypes of this era.
[20]
www.themmnetwork.com/blog/2010/04/09/does-the-rockman-zero-collection-storyline-explain-everything
Hypothesizing X could battle robots infected by viruses, he gave X the perfect virus counter-measure.
[21]
www.themmnetwork.com/blog/2010/04/09/does-the-rockman-zero-collection-storyline-explain-everything
Zero was produced by Dr. Wily, who schemed at taking over the world. But he contained a flaw in his cognitive program that made him violent and unwilling to obey instructions, so Dr. Wily himself sealed Zero in a capsule.
[22]
www.themmnetwork.com/blog/2010/04/09/does-the-rockman-zero-collection-storyline-explain-everything
A subspecies of the terrible computer virus from long ago is generated, and begins driving robots mad locally. The human leadership acknowledges these infected robots as Mavericks, and orders them to be disposed of. The source was found to be an unknown computer virus that had prevailed over 100 years ago emerging from the capsule Zero slumbered in.
[23]
www.themmnetwork.com/blog/2010/04/09/does-the-rockman-zero-collection-storyline-explain-everything
Receiving information of Zero awakening from his capsule and causing violence, the Maverick Hunter Sigma finds and intercepts him. during this incident, Sigma is infected by the unknown computer virus leaking out from Zero's capsule, but at the same time Zero, having his armor damaged in the battle with Sigma, also becomes infected with the virus. Due to this, Zero's personality completely changed, and he would turn to working as a Maverick Hunter.
[24]
Rockman Perfect Memories:
Exactly what kinds of secrets are sleeping in Zero's past?
Zero has almost no memory of the past. However, sometimes he seems to see a person resembling Dr. Wily in his dreams. And it's also said that Zero was born with the Sigma Virus already inside of him. His creation is it actually to battle with whom? One would never think it was for justice, however...
X: He was made by Dr. Right. Will the time for his fated battle with Zero come?
Dr. Wily: The one who put the Sigma Virus in Zero is, perhaps him......
[25]
www.capcom-unity.com/s-kill/blog/2008/09/05/inafunesan_answers_your_questions
Sigma was a powerful leader of the Maverick Hunters but after Zero passed the virus to him, his allegiance changed. Circumstances can change anything, and nothing is absolute.